About Me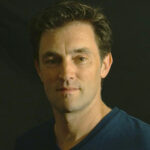 Joseph Metcalfe
Composer & Music Score Producer
Joseph Metcalfe was born and raised in Southern England and, having taught himself the piano from the age of 4, began composing music in his early childhood. While in his teens he wrote several award-winning musicals for the stage, composed the music and lyrics for the full length musical of George Orwell's, "Animal Farm," wrote several commercial jingles and composed & recorded his first TV theme tune (for ITV Telethon) at Abbey Road Studios, London. In his young 20s he moved to California for three years to be mentored into the film music world by Hollywood composers including Jerry Goldsmith, Elmer Bernstein, Christopher Young and Ron Jones.
Following his return to Europe, Joseph was hired to write music the for the TV documentary series, Blitzkrieg (2002), on the History Channel followed soon after by the hit international children's television series, The Mystery of Black Rose Castle (2001) which he composed, orchestrated and conducted with a live orchestra. On the back of that music, Joseph was sought out to score _The Hard Corps (2006)_ starring Jean-Claude Van Damme and Vivica A. Fox, by Sony Pictures.
Soon after, Joseph was commissioned to write for the British prime time TV show, _Monkey Life (2007)_ whose success has continued for more than 7 seasons (over 126 episodes) and has since been distributed across the world on Animal Planet and The Discovery Networks. Joseph returned to the States in 2007 and his music has been behind multiple award winning films on the independent festival circuit as well as being nominated for Best Music awards himself.
Today, Joseph is regularly hired by major studios and independent production companies. His clients include Disney, Sony Pictures, Epcot, Netflix, Amazon and a plethora of independent film companies.
Joseph lives in Los Angeles with his wife and three children.
Whether you think you can or you can't... you still can.
Joseph Metcalfe
Services
Music Production
From concept to delivery I handle all your original music needs.
Video
Composing 'The King's Daughter'
A behind the scenes look at scoring made for the 'bonus extras.'